Content Editing vs. Copy Editing
Writing hundreds of thousands of words won't make you a writer par excellence. Unorganized or inconsistent long-form contents too might merely showcase you but a verbose and nothing else. What matters the most in content writing is how precisely you are crafting the contents that literally keep your readers hooked to read and admire your incredible writing skills. Both content writers and editors thus require to be groomed on the multifarious aspects of content creation procedures. By giving them meticulous training, you can definitely expect exemplary outcomes from their sincere efforts.
As a content writer one should understand numerous important prerequisites which describe content writing as an art to play with the words. Let them also keep in loop another key factor like user-generated contents always bringing authenticity to the brands especially while contents are focused for marketing promotions. By adding many such elements and with the sincere incorporation of all the above-mentioned points, you are reassured for your contents to create wonders.
On the other hand, content writers should also remain abreast of formatting and language related techniques to create valuable contents. They must be thoroughly trained and groomed for content writing besides ensuring their awareness about the other two factors—content editing and copy editing. When they are trained to hone their research aptitude, they are expected to bring out exceptionally appealing and truly compelling content as highly skilled professionals.
What is Content Editing?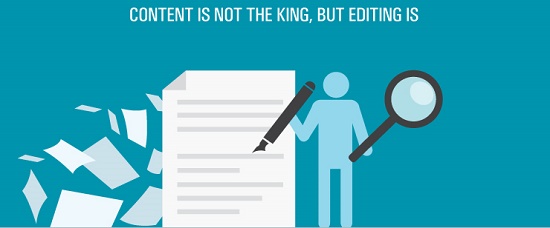 Smashing Magazine suggests 'how to evaluate business content editing tips through their professional honing'. Content editing service can be understood through the many metaphors used for it such as developmental editing or substantive editing to craft contents so that they turn into the readable pieces of stuff effective enough to express the ideas without any jargons. Editors involved in content editing should, therefore, focus on the following aspects religiously:
Meticulous content checking
Thorough checking of factual errors
Crosschecks to avoid contradictions, if there are any
Ensuring total avoidance of content inconsistencies
Checking discrepancies in the plots for factious contents
Total language error checking
Overall content honing
What is Copy Editing?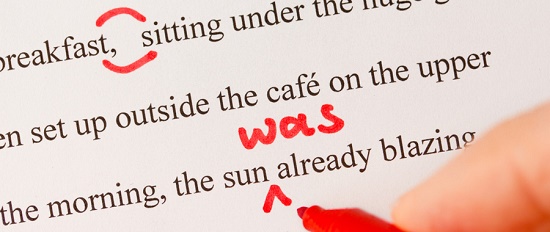 It is agreed by almost all marketing pundits that 'quality contents do bridge all the gaps in the marketing strategies'. What are the factors which can transform certain contents into quality contents which can leave a charismatic impact? Besides numerous other factors the notable ones like copy editing—also spelled copyediting—do remain an important prerequisite for quality assurance of contents written.
Through copyediting, a content copy is checked minutely for spellings besides other formatting errors such as capitalization to the use of punctuation, verb tenses and several other grammatical errors without which a copy's meaning might possibly change. Furthermore, copyediting plays a vital role to check the continuity of a copy by keeping in consideration the issues of sentence structuring, paragraph lengths to making the selection of appropriate words and last but not the least doing a further evaluation if any missed words are there which could mar the copies.
You may Like: Why You Need a Content Editing Service Now?
Forbes has explained 10 best ways to edit the copies thus enliven the texts to turn sought after. If understood in a layman's language, copyediting mainly involves minute language corrections of the texts as polished to turn them readable, appealing and compelling to all the potential loyal existing as well as new readers.
Valuing Content Quality Under the Content Editing vs. Copy Editing Prism
Quality contents always leave a lasting impression on the readers. Search Engine Land has done an extensive assessment of quality contents that they must meet Google Webmaster Quality Guidelines including Search Quality Rating besides the keywords & phrases' co-occurrence, topic completeness and adherence to the Panda algorithm et al.
Content editors minutely evaluate contents and also guides for certain changes, if required. Some portions of contents might require rewriting during the content editing process. The overall aim is to have an eye on the readers' perspective to ensure that they are satisfied by contents which grab their attention to the fullest.
You may Like: Benefits of Website Content Rewriting Services
If talking in the context of the business promotion contents, especially those meant for the eCommerce or digital marketing platforms, professional business writing skill remains a pivotal factor for business operations. Therefore, an ardent need of content editing and copy editing becomes mandatory. So, what should be your prime focus?
Involve a skilled content editor
Get your contents proofread for typos
Ensure that nuts and bolts of writing get fixed
Keen assessment for the fact-checking process
Ensure best copyediting for language accuracy
Content editing to hone overall content quality
Irrefutable Role of Copyeditors in Content Quality Assurance
Questions are often asked what roles copyeditors do play in content creation. And, to hone contents to bring out the final output, what are the key prerequisites. Well trained and professional copyeditors focus on quality assurance part through their steps to professionally polish the contents to turn them readable and meaningful.
They maintain total coherence in contents. Their focus remains on crosschecking the quality of contents as well as the quality of copies. Copyeditors do have a free hand to chop and change the copies as and when required. The key focus of the copyeditor will, therefore, be on following the primary aspects of bringing complete transformation in the copies through:-
Redrafting the copies articulately
Ensuring correct and consistent language tone
Ascertaining logical presentation with suitable headings & subheadings
Turning the copies effective to grasp target audiences' attention
Ensuring for proper copy structuring, formatting and minute spell checks
Assuring for the technically and grammatically correct copies
Focusing on the correct punctuation uses
Proofreading Does Matter the Most
SmartMarketing emphasizes with a couple of notable reasons why proofreading paves the way for attention seeking business communication. Like copyediting and content editing, proofreading too remains a crucial element in the content creation phase for quality assurance.
Proofreaders involve at the end but they remain crucial after the copies are already written and edited until they are finally approved as the finished products. In the nutshell, it can be said that a proofreader keeps an eye as the final stage of correcting contents for the following notable purposes:
Final checking of spelling, grammar and punctuations
Thorough look on the styling aspect of contents already written
Focus on the typesetting elements, if there are any
Assuring for correct caption placing for the photographs
Ensuring removal of unnecessary words, headings or paragraphs repetitions
Removing the corrupted characters, if there are any
Checking the contents and corresponding page numbers
Checking the inappropriate juxtaposition of texts or images
From content creation to content editing, copy editing and proofreading stages, there remains the substantive content creation and editing phases to come up with the perfect output. All phases have their vital roles to play and therefore so are they very much crucial. Those of you dealing with contents must understand the above-mentioned factors, their differences and also the cognitive roles they always play to help create quality contents. You should have a thorough understanding of their causal relationships in the content creation process.
From scratch until the end, a content writer, a copywriter and last but not the least, a copyeditor alongside a proofreader work closely and keenly to craft great contents. Through such teaming up, they can definitely expect consistency and accuracy in the contents written. Therefore, SEO copywriting services have become popular among entrepreneurs and website owners.
It should always be remembered that 2nd or 3rd pair of eyes would have a high value in the editing of contents to maintain their effectiveness. Such collective efforts will guarantee quality as meticulous efforts by paying attention to details. They are always crucial in content creation.
Causal Relation Between Contents and Business Communication
In the context of business communications to various promotional contents meant for digital platforms or even any traditional business operations, creating quality contents always remain important. They are seeking to imply in a comprehensive and systematic communication process. Quality contents are pivotal to maintain quality assurance in communications even if there is a choice to choose from two rights.
Let expert content writers, content editors and copyeditors collaborate for the great content creation effort so that created contents should remain imprint in a reader's mind. Qualitatively written contents resultantly best suit to the machines as well as human readers. When popular search engines catch them instantly, and also people start searching such contents, your website rankings start to escalate naturally. And, thus actual benefit of the Search Engine Optimization (SEO) with quality contents are easily witnessed. This is how you can create wonders with quality contents.
Isn't 'Content is the King' in the current scenario?
Conclusion
There is no dearth of freelance writers in the market today but why should you look for only reputed agencies which can assure you to offer a variety of writing services. As a robust team of the highly skilled and qualified professionals in the multiple niches, they would focus on each and every aspect from content creation to content editing and copy editing. Their efforts are always for compelling and sincere content creation strategies.
Their primary motive remains on the creation of quality contents which are written to appeals all and sundry—the unaccountable reader base.
Reputed content agencies create contents to assure that let your contents speak volumes and loudly too. They must literally enchant the readers to believe in what you are willing to convey. It would be possible by doing the balancing act—thus offering enough room to content creation, content editing and copyediting as per their respective values they should be given.