Commonest of the Technical SEO Issues Which Hamper Organic Ranking
From planning to inception or creating websites, the entire process is comparatively easier when done in planned manner. It is a systematic procedure to strategically think and act for your online presence. This process has become hassle-free and easy affair in the current scenario due to no dearth of professionals or companies that assist in designing websites. All you need to do is simply approach any such professional company to hire their professionals for your customized services.
Just elaborate your proposed website needs in detail and get the task completed. Many such companies offer instant solutions which also highlight the related factors such as operational elements to customizations if any. They keep suggesting you from the website idea to development phase and in fulfilling specific requirements as the all-encompassing solution providers.
An important factor which most of us often ignore is that mere having a website is not enough. It is equally important to assure that any particular website in question ranks organically. It will generate maximum traffic for the proven results. One can expect to see traffic getting converted into paying customers thereafter.
Most important of the steps that you must implement include thorough assessment of current SEO strategies, content creation planning and other related promotional initiatives which are bound to yield better outcomes. Collective attempts will prove helpful to rank the websites thus you attain success in the attempts being done.
Similar: The Need of SEO Services for Startups
Remember another important factor that even though you had creatively written well-researched contents and great SEO strategies in places, chances would be high that your website fails due to certain technical issues hampering it to accelerate to attain success further. It is therefore important to fix the technical issues at the right juncture and in the meanwhile obtain well-researched rich contents.
Similar: 15 Latest SEO Strategies for 2018
Here We Highlight Potential Technical Issues Associated With the Websites
Duplicate Contents
Duplicate contents can be defined as any piece of content that appears in more than one location on the Internet.
According to SEMrush, 50% of the indexed web pages face the duplicate content related issues. So, you must check your website regularly to resolve such vital issues without any further delay. Find out duplicate contents from your website for the rectification purpose and do the needful by either rewriting them or taking other systematic step you can think appropriate. Start writing fresh contents so that Google notices them. Duplicate contents will badly affect your organic ranking.
Duplicate or Missing Meta Description


A study by SEMrush reveals that 30% of the websites have duplicate meta descriptions while 25% of them have no meta descriptions at all. You should thus check each and every page of your website to confirm that it has appropriate meta descriptions.
Meta Description Checklist
Insert keywords
Write legible, readable copies
Maintain the word length
Consider using rich snippets
Write fresh descriptions
Inappropriate Title Tags
Title tags or page titles always prove helpful to users and search engine crawlers to determine what a page is all about. They indeed make search engine crawlers to crawl any particular website and thus help to improve rankings in a smooth pace.
Title tags would have several issues or factors which directly or indirectly affect the organic ranking of websites. Common factors are as follows:
Duplicate title tags
Missing title tags
Too long or too short title tags
Broken Internal and External Links
Both Internal Linking and External Linking are required thus they are helpful for the websites to bring sufficient improvement in rankings. Broken Internal Links are bound to increase bounce rate of your website. They bring down the organic traffic. Similar to Internal Links, you equally need to take care of External Links. You won't like External Links to lead traffic to an error page. Don't you! If you lack in taking effective steps to work on assessing the backlinks you are led to reduce the number of your pages which otherwise appeared in search engines. It is mandatory that you should keep all these factors under consideration.
Low Word Count
According to SEMrush, 18% of the websites have low word count on some pages. Search Engine Journal writes that Google considers the articles under 300 words to be "thin contents." And, as far as the search engine giant is concerned, thin content has an absence of value. It is crucial to evaluate such expert assessments with sincerity to attain better outcome from the strategies you do to boost your website.
Explore your website to find out pages with thin contents after doing their keen monitoring. Add some more information in them to make such pages scannable by putting additional research outcomes in them. It will greatly help you to bring your website into right track. Long form contents always prove helpful to engage the readers to improve ranking of any websites. It is a proven fact today.
Not Using HTTPS
If you are still using HTTP, then it is a high time to use the HTTPS instead. Google prefers secure websites to rank to boost them accordingly. Apart from ensuring the safety of your data, such secure websites rank easily for a remarkable presence.
Missing Alt Tags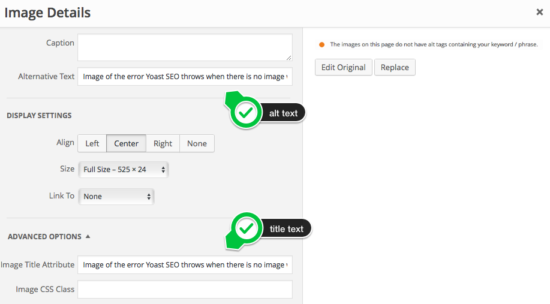 Images without alt tags are mostly overlooked by several search engines. You should thus always consider image optimization process to avail the benefits.
Keep it in mind that without alternative texts and text descriptions, search engines simply don't become aware that in which category to put them in. Therefore, it has become an important factor to include keywords you are trying to rank for in the image alt tags for a genuine categorization plus timely rankings.
Conclusion
Apart from the above mentioned technical errors, there are many other minor ones too that haven't been listed here. One can easily find them during the technical evaluation of their respective websites. You simply need to keep yourself updated with latest happening in SEO industry to update your website frequently. Continue this practice regularly. For an untrained eye, technical SEO issues aren't easy to spot. Try to involve the professionals especially SEO agencies to fix such issues.
If you suspect any of the above technical issues in your website then it is for sure that your site would get hurt organically when rectification is ignored. Take instant steps to rectify the issues after doing thorough assessment. Keep monitoring your SEO efforts to avoid any such untoward issues. Technically strong websites being supported by the strong social media optimization services perform well in the search engines that too without any intensive SEO strategy. Believe in this reality for the constant sustenance of your website's operation.